3 November 2015 – Tuesday
Croesus rights allocation is out as confirmed by a reader and LP. For those who applied via a non custodian brokerage, you can log into CDP account to check.
SCB users will have to check our online trading account. I last checked at 8 am and the rights are not in yet.
Important: While some people around us may have already received the refund,  do not assume that no refund means that you have successfully subscribed to all the rights (allocated + excess). Some accounts may take a longer time. It is always prudent to check your CPD account or your trading account for the allocated rights.
---
28 October 2015 – Wednesday
I did not know that the results of Croesus Retail Trust rights issue is out until my friend whatsapp me. The number of rights subscribed is a whopping 218%! You can read the full results here.
With such a hot rights issue, I believe most of us are eagerly waiting to check how much excess rights we have been allocated.  The expected date of issuance is 2 Nov and for those who applied via ATM, they can check their allocation on the same day based on the amount of money refunded in their bank account. Unfortunately for SCB holders, we will probably have to wait till 3 Nov to find out.
---
14 October 2015 – Wednesday
I called SCB today to exercise my 1,100 allocated rights and applied for another 3,900 rights. Based on past experience and the the popularity of this rights issue, I'm expecting 1,500 excess rights approximately 1.4 times my allocated rights.
SCB checked that I have sufficient funds in my account but the actual deduction will take place on 23 October. They will be calling me a second time to confirm my order, and if they are unable to reach me, they will SMS me. I wonder in the unlikely event that I fail to reply to both calls and SMS, will they drop my order?
---
12 October 2015 – Monday
I received SCB SMS. My indicative timetable was accurate up to plus minus one working day. SCB account holders, please note that you only have 5 working days or up to this Friday 5pm to take action.
Dear customer, please be informed of a Corporate Action event (RIGHTS ISSUE) for CROESUS RETAIL TRU – S/RIGHT (2015031981002) that requires your action. Kindly ensure your account is funded at the point of instruction if you wish to participate in the Corporate Action.
Please call our hotline 1800 242 5333 or +6562425333 by 5pm, 16th Oct 2015 to give your response.

Thank You.
Standard Chartered Bank (Singapore) Limited
---
Featured image by J. Money
Inspired  by Bully the Bear post, here is a timetable on what to expect if you own Croesus shares in Standard Chartered Online Trading account and intend to participate in the rights issue.
---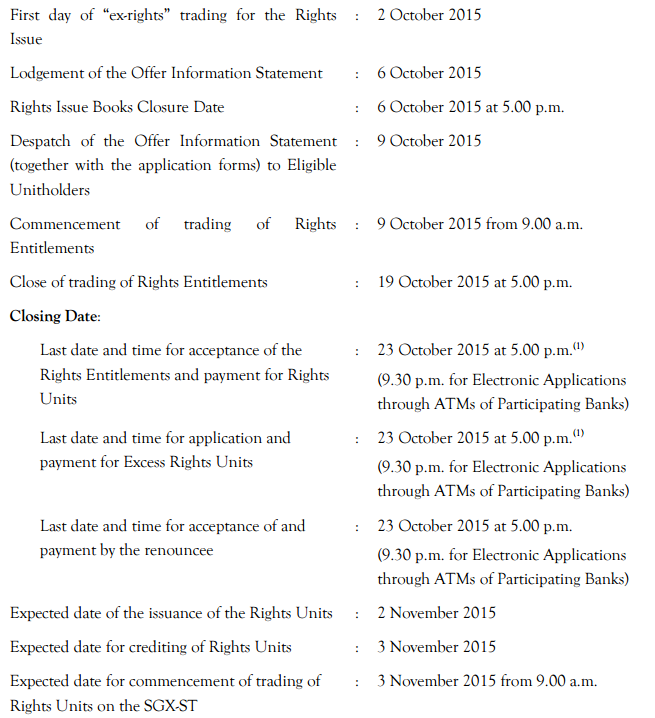 Standard Chartered Online Trading Indicative Timetable
| | |
| --- | --- |
| Croesus: Despatch of the Offer Information Statement (together with the application forms) to Eligible Unitholders | 9 October 2015 |
| Receive SMS from Standard Chartered Bank on the rights issue | 12 October 2015 |
| Receive a postal mail from Standard Chartered Bank on the rights issue | 13 October 2015 |
| Close of trading of Rights Entitlements | 19 October 2015 at 5.00 p.m |
| Dateline for SCB holders to participate in the rights issue | 16 October 2015 at 5.00 p.m |
| SCB will deduct the money for the rights purchase | 23 October 2015 |
| Login to SCB to check the number of rights and excess rights credited | 3 November 2015 |
As you can see, the time frame for us is very short – just 7 days including weekends. Although SCB says that they are open 24hrs, I suspect that their trading representatives work only during office hours. The trading representatives are the people who will execute your instructions and not the call centre representatives.
Do also note that you must have sufficient money in your trading account before calling SCB. The money not be deducted immediately – only on the actual last date and time for rights acceptance. Theoretically, you should be able to still move the money around but I did not try my luck. Maybe someone who has tried it can advise?
The above timetable is based on my personal experience. If you want to be very sure, just give Standard Chartered a call to confirm.